The $26.9 Billion Underwriting Loss is the Largest Since 2011, According to Preliminary Results from Verisk and APCIA
Jersey City, N.J. — Key financial results for private U.S. property/casualty insurers significantly worsened in 2022 from a year earlier, according to preliminary results from Verisk (Nasdaq: VRSK), a leading global data analytics provider, and the American Property Casualty Insurance Association (APCIA).
The industry experienced a $26.9 billion net underwriting loss in 2022, more than six times the $3.8 billion underwriting loss in 2021. The underwriting loss was the largest the industry has seen since 2011.
Net income fell to $41.2 billion in 2022, compared to $62.1 billion a year earlier – a 33.6% decline. That decline would have been $11 billion worse if investment income were not bolstered by various one-time transactions from outside the property/casualty insurance industry.
In 2022, incurred losses and loss adjustment expenses grew 14.1% while earned premiums grew 8.3%. The combined ratio – a key measure of profitability for insurers – deteriorated as well, to 102.7% in 2022, from 99.6% in 2021.
The preliminary results, presented in the table below, are consolidated estimates based on annual statements filed by insurers with insurance regulators. The results are based on about 94% of all business written by U.S. property/casualty insurers.
"The insurance industry is being hammered by increasing input costs, natural catastrophes, legal system abuse, and resistance in some states to adequate rates," said Robert Gordon, senior vice president, policy, research & international for APCIA. "Insurers suffered a 14.1 percent increase in incurred losses and loss adjustment expenses (16.6 percent in Q4), contributing to a more than $76 billion contraction in insurers' surplus at a time when loss exposures are rapidly growing. In 2023, insurers are faced with a significant challenge to close the rate gap in order to meet their growing cost of capital."
"Hurricane Ian and the effects of inflation resulted in major losses for property insurers last year, while accident severity continued to plague personal and commercial auto lines," said Neil Spector, president of underwriting solutions at Verisk. "To remain profitable in these challenging times, many insurers are looking for new ways to reduce expenses, increase efficiencies, and enhance the customer experience. And they're finding help from an ecosystem of advanced technology and analytics that is growing every day."
Policyholders' surplus recovered somewhat from Q3 2022's $911.7 billion to $952.4 billion, but still remains below that of year-end 2021 driven primarily by the large amount of unrealized capital losses accrued during 2022. Insurers' rate of return on average policyholders' surplus, a measure of overall profitability, declined to 4.2% in 2022 from 6.4% in 2021.
Fourth Quarter Sees Continued Growth in Net Written Premiums
The industry's net income fell to $10.3 billion in fourth-quarter 2022 from $19.8 billion in fourth-quarter 2021, and the annualized rate of return on average surplus fell to 4.4% from 7.9% a year prior.
Net written premiums rose $13.8 billion in fourth-quarter 2022, or 8.2%, compared to a year earlier. Net underwriting losses declined to $5.5 billion in fourth-quarter 2022 from $1.8 billion in gains a year earlier, and the combined ratio deteriorated to 104.0% from 100.0% a year prior.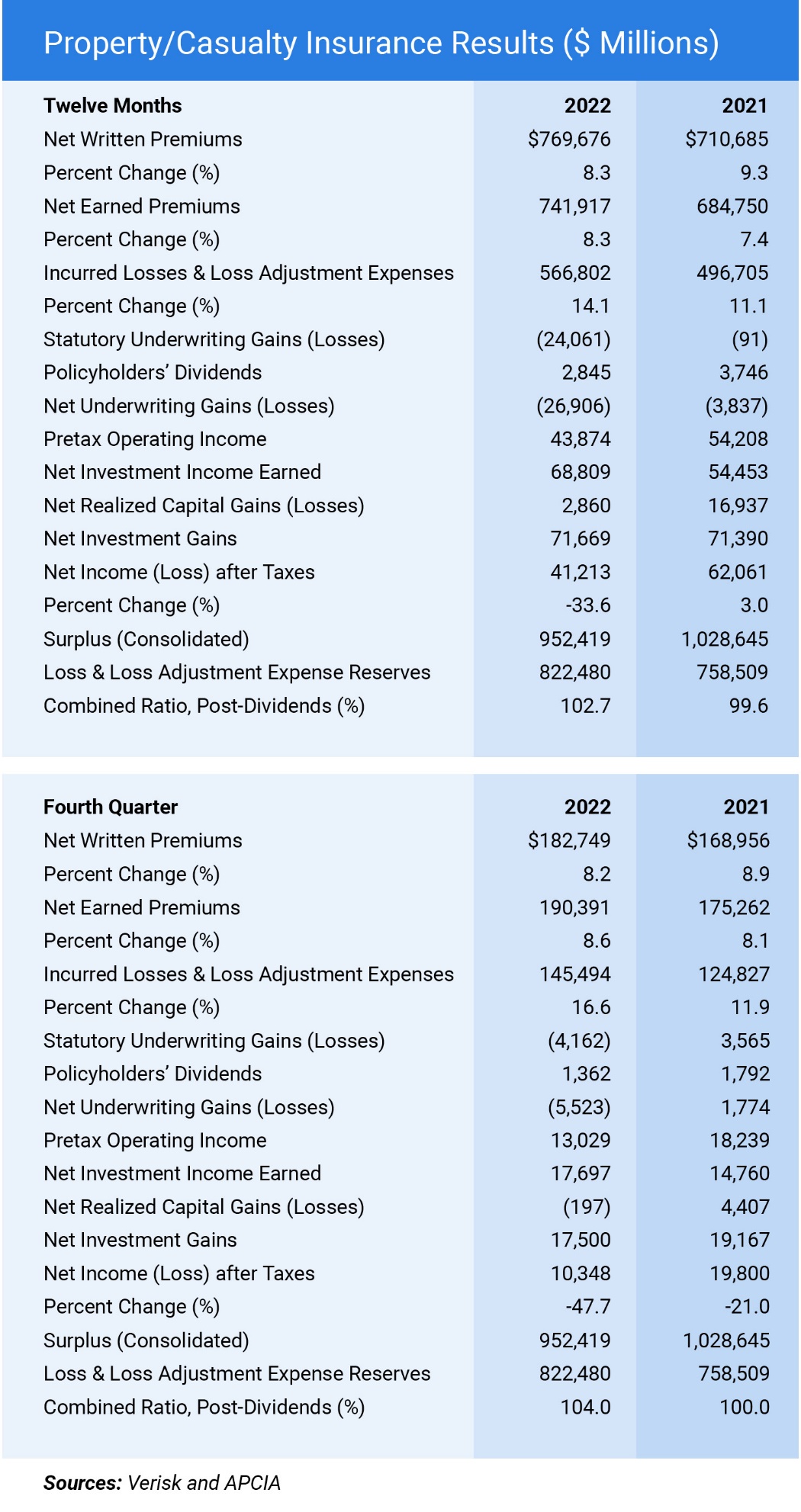 Note: The results above are based on annual statements filed with insurance regulators by private property/casualty insurers domiciled in the United States, including excess and surplus insurers and domestic insur­ers owned by foreign parents, and excluding state funds for workers' compensation and other residual market insurers, the National Flood Insurance Program, foreign insurers, and reinsurers. The figures are consolidated estimates based on reports accounting for about 94% of all business written by U.S. property/casualty insurers. All figures are net of reinsurance unless otherwise noted and occasionally may not balance due to rounding.
About Verisk
Verisk (Nasdaq: VRSK) is a leading strategic data analytics and technology partner to the global insurance industry. It empowers clients to strengthen operating efficiency, improve underwriting and claims outcomes, combat fraud and make informed decisions about global risks, including climate change, extreme events, ESG and political issues. Through advanced data analytics, software, scientific research and deep industry knowledge, Verisk helps build global resilience for individuals, communities and businesses. With teams across more than 20 countries, Verisk consistently earns certification by Great Place to Work and fosters an inclusive culture where all team members feel they belong. For more, visit Verisk.com and the Verisk Newsroom.
About APCIA
The American Property Casualty Insurance Association (APCIA) is the primary national trade association for home, auto, and business insurers. APCIA promotes and protects the viability of private competition for the benefit of consumers and insurers, with a legacy dating back 150 years. APCIA members represent all sizes, structures, and regions—protecting families, communities, and businesses in the U.S. and across the globe.
###